I have recently found a couple of new blogs that I like to look at. I added them to my side bar, but they are:
The Mother Huddle
: they have cute ideas for things to do with kids, fun craft tutorials, cooking posts = right up my alley
&
Household 6 Diva
: Army Wife, Busy Mom, Balance Seeker. & originator of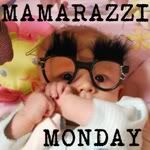 Today I decided to join in the fun. I probably wont do this every Monday, but I'd like to join in every once-in-a-blue-moon...maybe even more often than that! :)
Last Wednesday, Wyatt woke up from his nap before Allegra. He had to go potty so I told him to go through his bedroom. Our bathroom is in the far corner of our 2 bedroom house so we both have doors connecting to the bathroom.
Next thing I know, I hear a door opening. Since he's not big on shutting the bathroom door to begin with, I had a feeling he had went into our bedroom from the bathroom. I braced myself. Then came the giggles. From both of them. I let them play for a few minutes and then went in to check on things....
This is what I found...well this isn't exactly what I found. I ran out of the room and grabbed my camera and THIS is what I got the picture of. What I actually found was Wyatt sitting at the foot of her crib, Indian style, with Allegra's feet in his lap. He was tickling her and she was giggling...that's what I actually found.
Wyatt had hauled Ryan's pillow into the crib and "shared" it with Sis.
Awe...what a sweet moment, and can I just say that in this picture, she looks "thrilled" to have been woken up, LOL.
Sweet smiles from a sweet big brother.
Kisses from Sisserlou
I don't think he was a fan of those kisses so he tried to give her her bink instead.
More giggles
Can you see the love? I can.
Let's try this bink again!
These are the moments that absolutely melt my ♥